WARNING: Picture-heavy post ahead>>>


More than 3 months ago (oops, so pai seh) on 28 July 2011 , I was invited to local leather bag label Tocco Tenero's Fall/Winter 2011 Collection Preview Launch right outside their Wisma Atria outlet, at Coffee Stars by Dao.
Many thanks to Gidania, from The Media Ministry, who sent me an invite for this event! 🙂


What is Tocco Tenero?
The 3-year-old label, which roughly translates to 'Tender Touch', prides itself as 'Replaceable Fashion', where style, affordability and quality are married together as fashionable designs are produced monthly, crafted from 100% leather while maintaining superior quality at competitive prices of below SGD200.
At a fraction of the price you would usually pay for a full leather bag in other retail outlets, the Tocco Tenero customer is able to switch bags at will and shop without straining her pocket.
Here are some of their designs from their Spring/Summer 2011 collection (click to enlarge the first two photos):
The 5 key characteristics that define Tocco Tenero are: Colours, Versatility, Functionality, Affordability and Quality.
Leather bags in bright hues are the label's signature looks. Every collection features leather in various Colours to brighten up any outfit:
The Versatility of a Tocco Tenero bag is based on these 2 key elements: Firstly, it allows the user to tote the bag in several different manners such as Shoulder sling, hand-carry, clutch or strapped across the body. Secondly, it describes the ability of the bag to be arranged in different shapes to add that extra structural dimension to the product and provide the illusion that you have a new bag every day.


Functionality describes how Tocco Tenero bags can be part of your everyday life, easily making the transition from work to play. With more than 100 designs in-store, there's something to suit every aspect of the modern person's life.
| | |
| --- | --- |
| | |
The delicate combination between Affordability and Quality is achieved by investing time and effort into the research and development of each Tocco Tenero product to maximise the use of material and accessories while minimizing weight during the construction phase, to lower the cost of manufacturing and to provide convenience to customers; therefore allowing for very affordable retail prices.
Comprehensive quality control (QC) measures are put in place and enforced by independent regulators to ensure that quality is not compromised in every Tocco Tenero product.

My take on Tocco Tenero
After attending the mini fashion show put up by Tocco Tenero to showcase its Fall/Winter 2011 collection, I was quite impressed with the amazing range of styles and colours that complemented work wear as well as animal prints (or preens, as some would say, ahem)!
The pictures I took at the event would speak for themselves, but I was even more impressed with this little nugget of info I gleaned from their press release given to me:
"Tocco Tenero tries to do its part for the environment by putting their expertise in leather to good use by ensuring up to 20% less cutting wastage, producing more products with the same piece of leather normally used to produce just 1 bag by other manufacturers."


WOW! I really like it when I see that companies are doing their part for the environment; I think that going forward, that's the socially responsible thing to do. 😀
Ok, now that most of the brand info is out of the way, I'd let the pictures do the talking; click to enlarge any of the photos below if you want to see the bags up close (Disclaimer: I apologise for the poor quality of the photos as I'm no photography expert, and the models were mostly in motion):
Now that you've caught a glimpse of Tocco Tenero's Fall/Winter 2011 collection, here's a little parting shot:
For a graceful blend of the vibrant pace of today's fashion with the characteristics of traditional Italian culture, such as beauty, sophistication and passion, look no further than Tocco Tenero.
Tocco Tenero bags are priced from $79 to $199 and located at:
#01-33 Wisma Atria
#P1-26 Parco @ Millenia

Before I go though, here's a glimpse of what they served at Coffee Stars by Dao (I really liked the food!) and my FOTD for that day:
And boy was I in for a pleasant surprise! I was gifted a document holder in black and pink, and a voucher to choose a Tocco Tenero bag from its Fall/Winter 2011 Collection before the end of September this year. It was really generous of Tocco Tenero, thank you so much! 😀
So here's what I chose for myself:
Here's how I look carrying the bag in 2 different ways:


The strap can also be slung diagonally across the torso for a relaxed casual look a la messenger bag (I forgot to take a pic carrying the bag that way! 🙁 )
I can't resist this; when I saw J Lo in her Papi video, I couldn't help but think my bag looked a little like hers (and so do our pose!):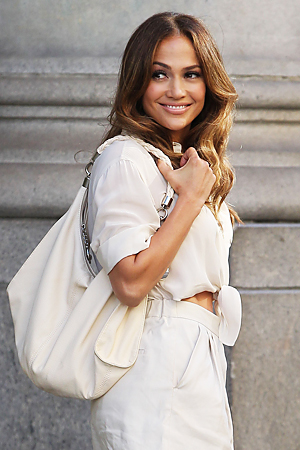 Watch her video and see what I mean ;):
Thank you so much Gidania for the kind invitation once again! 🙂
Tocco Tenero Spring/Summer 2011 collection photographs and brand information, courtesy of The Media Ministry