Hello readers! 2011 is coming to a close, but before that happens, I hope to be able to blog about some reviews and post info on sponsored products I've got sometime back in the later half of this year 🙂
Also, I've won some goodie bags and prizes in FB contests here and there, and attended some events, so I'll be posting on those too!
Here's a sneak peek of what's to come SOON:

Yes! A review on some of the products I was sponsored above by K-Pharm: 2 COYO cleansers, and 4 products from the Snail Street line. Most likely I'll be reviewing both COYO cleansers and 1 product from the Snail Street line: Snail AC Trouble mask.
I might review the Snail Street cream and serum if my dermatologist gives the green light, but not for now…

Next up, I'll be posting on my tea session with the Bio-Oil people:

We had a very cosy tea session, where I was presented with information on Bio-Oil, and a free bottle of Bio-Oil to review, which I'd finished in 1.5 weeks 🙁
In any case, they were very sweet to have hosted me, given me a cute First-Aid pack, complete with Bio-Oil, antiseptic hand rub and plasters, PLUS calendula tea for me to try! 😀

Of course, I'll be reviewing more stuff from Beauty Bistro, which was featured in last Friday's URBAN:

Above: 2 pairs of false eyelashes, upper and lower lashes from DOT-DOT, no less.
Above: SHILLS Magical Hair Volumizer with Camellia extracts

Lastly, I'd be posting some info given to me by Watsons and Life Nutrition, thanks to lovely blogger Michelle:

You guys gotta stay tuned for this because the supplements sound awesome and they are affordable too! One bottle of deep sea fish oil (45 soft gels) retails for S$29.90, and they are molecularly distilled. Impressed!

The Prizes & Goodie Bags I've Won
In late Jul, I won a $150 whitening goodie bag from L'Oreal Paris Singapore, for this winning comment on their FB page:

Here's the goodie bag I won:

As promised, I'd be reviewing their White Perfect Micro-Vibration Eye Brightener but it'll prob be posted in early 2012, as I'm trying to figure out how to incorporate this into my already complicated skin care regime 😛

Sometime in Aug, I took part in a Guardian Health & Beauty/LMS Spotlight contest, where 3 winners would walk away with a $100 goodie bag. My winning entry was:


I'm lovin' my LMS Spotlights!
"I'm in my early thirties but I still break out from spots on my cheeks and T-zone especially when I am stressed and don't take care of my diet and lifestyle habits (like eating enough fruits, drinking lots of water and sleeping early).
I've used LMS Spotlight 8 for only a week now and I'm loving my skin! Although I still get pimples, they heal faster with the redness subsiding more quickly than I could ever imagine!
I'm also using LMS Spotlights for acne scars from my bad breakout in May, and even bought myself the LMS Spotlight 24 yesterday to save time! I can honestly say the scars and redness on my cheeks have faded somewhat with just one week's use. What's more, my skin actually feels plumper, firmer and smoother after 1 week. I'm sold!"


And this was what I won:




Not long after that, I took part in yet another Guardian Health & Beauty FB contest:

This was my winning entry (one of the top 5 most creative entries, dun pray pray):

And this was the $46 goodie bag:


In early Sept, beauty blogger Beaute Runway invited me to a Palmer's event, for a launch of some of their new products, as well as to create environmental awareness. And I left with this generous goodie bag, besides making myself a young friend there:

Last but not least, I'd won myself a FairyDrops Vanilla Puff Mineral Powder in Sparkle (4 g), retailing for S$36.90 in Watsons (IKR):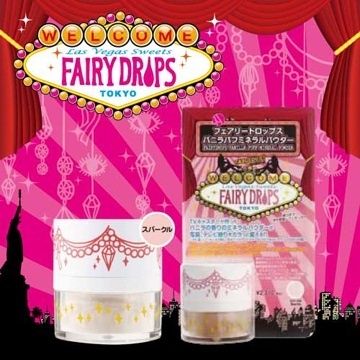 I was the first person to have posted a pic of myself with Dolly Wink products on Watsons' FB wall:

So there you go! Let me know if you'd like me to review any of the products I've featured in this post 🙂